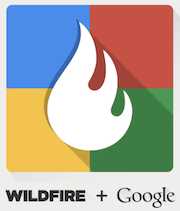 With Buddy Media , Vitrue  and Involver  already acquired, it was only a matter of time before Wildfire was snatched up. Buddy Media went for $800 million and Vitrue for $300 million. Wildfire went for \$250 million. It currently has about 350 employees and is located in Redwood City, CA.
Google wrote the following regarding the acquisition:
In a complex and changing landscape, businesses want to manage and measure these efforts in an integrated way. We've been working towards this end for some time. For example, Google Analytics helps businesses measure the contribution of hundreds of social sites; our Admeld service has helped to serve ads in Facebook developers' social apps; and our DoubleClick platform enables clients to run and measure ads across social websites. On Google+, brands use services like Vitrue, Buddy Media and others to manage their pages, with many more to come.

With Wildfire, we're looking forward to creating new opportunities for our clients to engage with people across all social services. We believe that better content and more seamless solutions will help unlock the full potential of the web for people and businesses.
InsideFacebook's Brittany Darwell notes that  "Google was reportedly interested in Buddy Media, but that company sold to Salesforce. Now with Wildfire, Google gets a popular platform and large sales team…Unlike Buddy Media, Wildfire doesn't have access to the Facebook Ads API, but it's unclear to what degree Google was interested in that aspect of the platform."
Congrats from BrandGlue to the entire team at Wildfire. We're excited to see more great social products and continued great customer service!